So the bus FINALLY came for Jacob yesterday! YAY! I guess when the bus dropped him off thursday afternoon, the bus driver said that he was just put on her bus. She didnt have him on her list or anything. So she said that she would just come take him to school and take him home every day. So yesterday morning she came and got him! I was so happy and excited, and so was he! He loves riding the bus so it was fun for him.


Thursday night, I was in my room, watching tv. I didnt even think that it was past the boys bedtime. So I went out in the front room because it was really quiet, to find this! I had to wake them up to put the jammies on and put them back in their bed, but this picture was too funny not to take.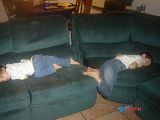 Also, yesterday was haircut day! Tyler got a haircut FINALLY! We went to a place called Lolilocks or something like that and that place is awesome!! It is totally kid frendly and the lady who cut tylers hair was really good with him and cut his hair fast so that he wouldnt cry too much. Of course, he cried almost the whole time but I didnt care because thats what this place is used to since its all for kids. Here are some pictures of his cute new hair!