3 years ago today I had a little baby. Its 6:23 am right now and im reflecting over what took place at this time in the morning. 3 am on the 28th I woke up and I was all wet. I had no idea what was going on and thought that I must of just peed (yep gross...but if your a mom you understand haha) so I went to the bathroom and nope it wasn't pee. So I went back to bed. 20 min later I woke up again all wet. So I got up and walked around to see if it would stop...it never did. This was a month before I was supposed to have him. 3 weeks earlier I was in the hospital for pre term labor. About 6 am I wake up Tom and tell him whats going on. He says lets go to the hospital and I say no...its ok its nothing. Well we end up calling my mom and she tells me to hurry to the hospital. I still didn't want to go but my mom made me go...haha. So we did at 10 am. When we got there they did a test to see if my water had broke or not. One test came back positive one came back negative. So they just treated me like my water broke. I was scheduled to have a c section exactly a month before on Jan. 28th. So they just went ahead and was going to give me a c section. My sister had her baby on the 23rd and we share the same doctor. He said that he was about to leave on vacation and so I knew he wasn't there. As soon as we got to the hospital my contractions were getting bad. They had me in triage until an OR room would open up. They wouldn't even give me an epidural because they didn't want it waring off before they did the surgery. about 1 pm they finally came in and said that there is a room open and we can go do it now. So we finally went and they tried to give me a spinal. But I couldn't move forward because my contractions were so strong. When he went to do the cuts he said...this baby's head is right here what do you want to do? I took a few seconds to decide if I wanted to just push him out or have the c section and as I was thinking the nurse said his heart rate is in the 40's someone call NICU. So at that time I said...I don't care just get him out. So they pushed his head back up and took him out by a c section. Because they did that, it cut my uterus in 4 different places and I had an additional 3 hour surgery to repair it.
When Tyler came out he was not breathing. They had to take him up to NICU and get air to him. He was only up there for 3 hours and was fine the rest of the time. When he was born he only weighed 6 lbs 2 oz. When we took him home he went down to 5 lbs 10 oz.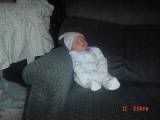 We have been through so much with him and his short 3 years. To genetic testing appts (go to the first posts ive done on here to read up on that) to him not walking till 18 months...to now, being a car loving kid.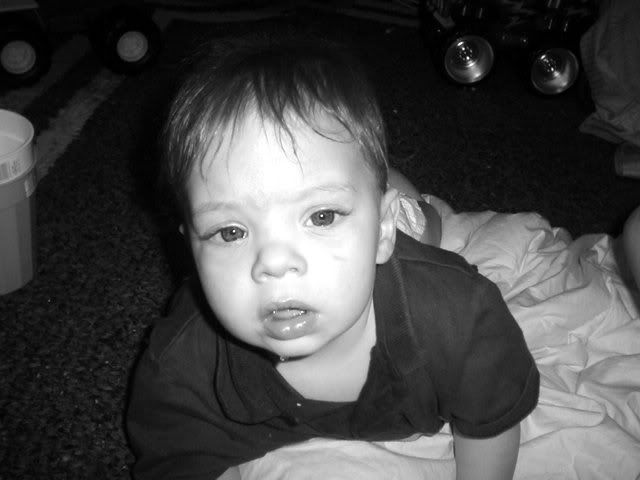 Everyone who meets tyler is just falls right in love with him. He just has this sweet spirit and always has a smile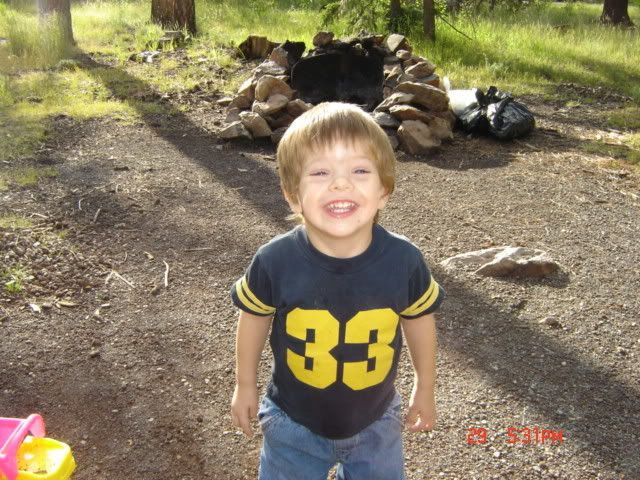 Even on his first bday when he was sick with RSV he was still happy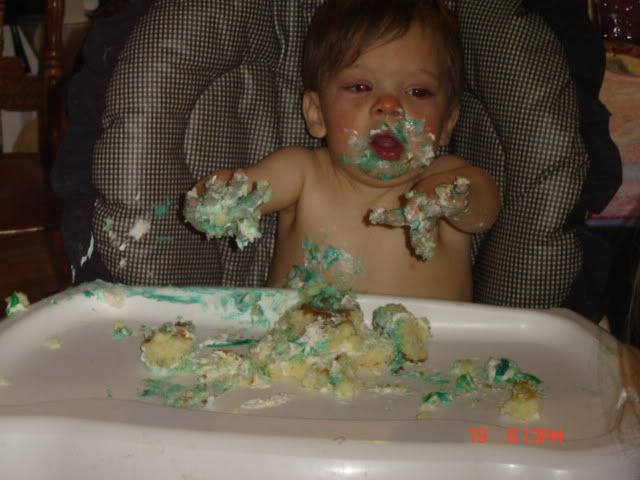 There is so much I could say about Tyler. He definitely is a blessing to have in our house and I'm glad hes my son. Happy 3rd birthday Tyler...we love you!