We are back from camping. We have actually been home for almost a week...haha. But I'm now just getting to posting about it. Well for one, we came home 2 days early. So you know it really didn't go as planned. It was really hot and everyone was cranky and my boys were wild, and those things just never go well together. So we just left. I was ready to come home the day we got there! So it was nice to be home when we got here. Here are some pictures of our few days up in the Mtns.



When I turned on my camera to get the pictures...this is what I saw. Obviously the boys thought it would be fun to take pictures of themselves.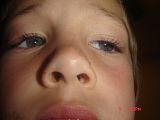 The first night we were there, I went in to the tent after playing a few games and saw this. This shows my boys do not stay still when they sleep!!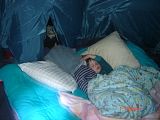 Tyler was walking around the fire pit and decided to play in it. He was filthy. This picture does not do it justice.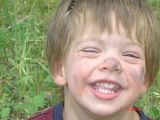 It was so hot that one day we had to take the pants off of Tyler because he was sweating so bad. So we let him run around in his diaper. Pure white trash!!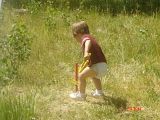 This is the only picture I got of both boys. They were finishing up their breakfast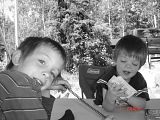 Here is Tyler just being cute!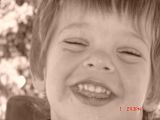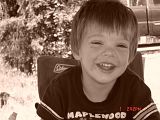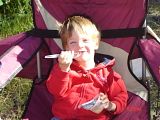 Jacob LOVED the fire. We had to try so hard to keep him away from it. But every time it was lit he was right there by it.
Here is grandad relaxing in the hammock with the boys. They loved that thing and kept going in it.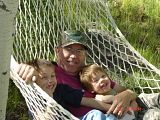 So these are just about the only pictures I took of Jacob. I just realized most of them were of Tyler. Jacob wouldn't stand still enough for me to take any pictures of him, I guess.